Do I need a Business Website in Cyprus?
Web Design Cyprus in a few simple steps.
Do I need a website for my business in Cyprus?  Will a website bring me more work?  How much does a website cost?
These are questions we get asked on a weekly basis by business owners throughout Cyprus.  In short, the answer to all of the above questions is Yes – if your Cyprus business website is well built, correctly configured and regularly maintained then having a business website in Cyprus will benefit your business beyond measure.
Website Design in Cyprus is becoming more popular as many businesses are beginning to realize the benefits of having a website in Cyprus (especially during the COVID lockdowns experienced over recent months).  In the past people used telephone directories like Yellow Pages or local printed directories to find businesses but in today's world of smartphones, Alexa and tablet computers, if your business is not listed on Google you are missing out on a lot of potential clients.
Having a well-developed SEO friendly website in Cyprus, that people can find easily on Google, will push more customers your way giving you the potential of gaining more sales.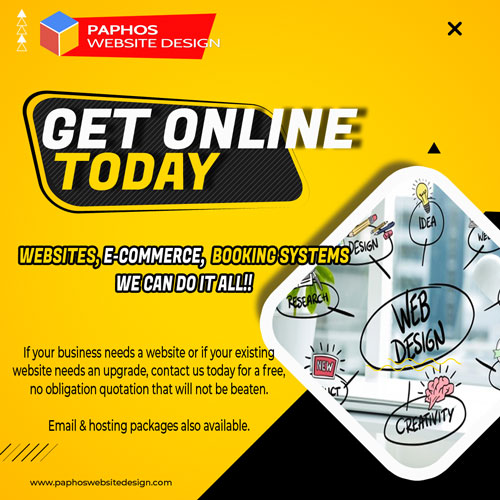 How do I get a website for my business in Cyprus?
To build a website you need three things:
1. A Domain Name (The address of your business website in Cyprus)
(try to make this keyword specific to your business)
A domain name is the internet address where people will find your website (this is not your business name – although some people do use their business name as their domain name). An example of a domain name is www.paphoswebsitedesign.com or www.paphospcrepair.com . Both of these are domain names that allow people using the internet to easily find the relevant websites that they point to and also help Google spiders index the websites correctly for people using its search engine.
It is always useful to try to include 'keywords' into your domain name where possible as this can help with SEO (Search Engine Optimisation – rankings on Google).  Notice in the above domain name: www.paphoswebsitedesign.com that the domain has 3 keywords in it which actually makes up a 'keyphrase': Paphos Website Design.  These three words are 'keywords' that people may type into a Google search if they are looking for a website designer in Paphos or website design in Paphos.
Similarly, you could have a domain name like www.cypruswebdesign.com – this domain name is made up of three keywords Cyprus Web Design which people again could type into a Google search if they are looking for a Cyprus Web Design company or a Web Designer in Cyprus.
The difference between the two domain names above is one is targeting a very specific area
www.paphoswebsitedesign.com
www.paphoswebdesign.com
www.paphoswebdesigner.com
www. paphoswebdevelopment.com
where the specific location keyword is Paphos, where as in the example below:
www.cypruswebdesign.com
www.cypruswebsitedesign.com
www.cypruswebdesigner.com
www.cypruswebdeveloper.com
all are using the location based keyword of Cyprus which makes the domain name more country based rather than district based (Paphos).
When you are deciding on a domain name for your business website in Cyprus it is always useful, but not essential, to include as many keywords as possible to help Google index your website correctly.  If you are targeting a whole country then use something like cypruswebdesign.com or cypruswebsitedesign.com.  If you are targeting a specific area then make your domain name more specific like paphoswebdesign.com or paphoswebsitedesigner.com.
Note: your domain name will also be the domain used on any email accounts you decide to use once your business goes live (info@… yourdomainname  enquiries@ …   office@ … )
2. Cyprus Website Hosting
Web Hosting in Cyprus
Selecting a good Web Hosting Company in Cyprus is just as important as having a well-developed website for your business.
Lots of online companies offer very cheap website hosting solutions for all types of websites but beware – cheaper is not always better for your business.  Many of the cheaper website hosting platforms use 'shared' servers which means that your website is sharing a server with thousands of other websites.  The problem with this type of hosting is that:
Many websites on a server can slow the server down so when people visit your website it loads very slowly
Other sites on the server may host inappropriate material which may result in the server IP address getting 'black listed' – which in turn may affect your website / email
Websites on low cost shared web hosting servers may not be properly maintained which may result in the server suffering denial of service attacks by hackers – causing 'downtime' on the server
Google knows about these shared IP addresses and may downrank a website that is using them
Here at Paphos Web Design we offer all of our clients, who opt to host their website with us, an area on our Private VPS server.  The benefits of this are:
Only a limited amount of websites are hosted on the server – so it runs very fast
All websites on the server are maintained / updated by us to reduce the chance of any website being hacked
We know all of the websites on the server so no inappropriate content will ever be allowed onto the system – thus reducing the chance of IP blacklists
We have many websites on our server which rank highly with Google so Google knows that our IP address is a trustworthy source
Our technicians monitor the server 24/7 so any potential threats or security updates are always handled as quickly as possible
When enquiring about having a website built for the first time by a Cyprus Web Design company many business owners come to us with the idea of 'trying it out' for a short period of time to see if it works for their business.  This unfortunately is not the way to go, and it is not the way it works with search engines like Google.   If you want your website to rank highly on Google, so customers find you, then everything must be put in place correctly from day 1.  When a new website is built, the foundations of the website (the server used, build quality, seo framework, …) is one of the most critical factors to ranking on Google.
3. Your Cyprus Business Website Design
(if you cannot do it yourself employ a Cyprus Web Designer)
The final thing you need when building a new business website in Cyprus is the website itself.  If you do not have the technical skills to do this yourself then be sure to employ the services of a professional website designer in Cyprus.  The Cyprus website developer will need several things from you to be able to provide you with a quotation to build a new business website.  They will need to know:
What type of website you require?
(An advertising website in Cyprus, a web shop in Cyprus, a rental website in Cyprus, a food ordering website in Cyprus, a WordPress website in Cyprus, a website upgrade – from an older website)
How many pages your website will have? (home page, about us page, contact page, shop page, …)
If you require a web shop / e-commerce solution (how many products, product categories, product images, product prices, shipping fees, …)
To build the website they will also require (as a starting point):
A copy of your business logo
Any design material you currently have for your business (so the website can be designed using your colour scheme to keep branding consistent)
The images and text for each page (the content for each page of the website)
Your business address, telephone number and email address (if you have one)
How much does a website cost?
The cost of a new business website in Cyprus depends on exactly what the new website consists of.  As an approximate guide to pricing:
Domain Name
A domain name can cost anything from $8.99 through to $100 or more per year depending on the domain name that you choose and the domain registrar that you use.  We always recommend that Cyprus based business websites use a .com domain name and the registrar we recommend is www.namesilo.com.  Their charge for .com domain names (April 2021) is $8.99 / year.  We also recommend that business owners register the domain name themselves (in your own name / address) as we have heard of horror stories where some website design companies have registered a domain name on a clients behalf but then refused to release the domain name to the client if / when they decide to move away from using their services.
Cyprus Webhosting
Webhosting can cost anything from €1 / month through to €2,500 / year depending on the size of the website hosted, the bandwidth used and the features required by any given business.  Most business websites in Cyprus should expect to pay €80 – €100 / year for a good, fast web hosting solution with support, updates and backups included.
(Hosting on our private server falls within this pricing bracket and also includes a free SSL certificate.  We also include 1 years website support & updates on all websites we host to ensure your website stays updated and secure at all times.)
Cyprus Website Development
The cost of a web designer in Cyprus to build a new business website for your Cyprus based business will range from €150 – €2,500 depending on the type of website you require, its functionality and the number of pages.  Please feel free to contact us with your requirements and we will be happy to supply you with a free no-obligation quotation.
Affordable Web Design Paphos – Professional Website Design Cyprus – SEO Cyprus – E-commerce Solutions Paphos – Website Hosting Cyprus – Online Shop Cyprus – Food Takeaway System Paphos
Let us help you get online today!